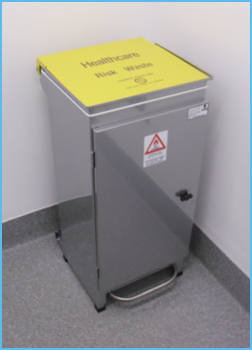 The rise of super resistant bugs such as MSRA has brought a renewed focus to sanitation efforts in clinical settings.
Part of a comprehensive sanitation policy is an adequate supply of clinical waste bins. Ensuring there are enough receptacles in a given area such that waste material need not be transported through numerous areas is vital to inhibit the spread of infectious disease. Clinical waste bins must be durable and hard wearing so as to not need too regular replacing. Incorporating features such as antibacterial coating and hands-free pedal systems further improves their effectiveness.
Paragon Products supply a range of clinical waste bins that are ideal for use in hospitals, clinics, nursing homes and any other facility where clinical waste collection is required. Bins come in a range of capacities and forms to suit any room size or practical requirement. The large 70L bin is suitable for high traffic areas where there is likely to be large amounts of waste deposited frequently. There are two 50L bins available, one in standard dimensions and another smaller, wider bin which is ideal for spaces with limited height availability but that require relatively high volumes of waste to be collected. Two 20L variants are available, one standard and one with a front access door.
All healthcare bins incorporate a hands free pedal system that minimises risk of contagion and, by allowing for both hands to hold waste, limits the potential for dropping or spilling of potentially hazardous clinical waste outside of the bin. Medical grade shock cord is used in all bins to ensure bin liners are held in place firmly and securely throughout its use. All of Paragon's healthcare bins are fire retardant in accordance with all relevant safety requirements.
For convenience of movement castors can be fitted to all models as required. This enables bins to be safely and easily moved for emptying in specific areas or to be repositioned elsewhere. Bin lids are designed to be silent closing so as not to cause unnecessary disturbances to patients on a ward. Bins also incorporate wall buffers and raised feet. By maintaining a space between surfaces, dirt, grime and accidental spillage does not easily gather between the two surfaces.