What is SteriTouch?
SteriTouch® is a range of additives which prevent harmful bacteria and mould growth on surfaces.  Based on the natural sterilising properties of silver, SteriTouch® protection is especially important in healthcare environments where hygiene is critical, preventing the  growth of infection causing bacteria such as MRSA and E.Coli.
Where is it used?
SteriTouch® is used as standard on all of our Healthcare Range of Products
Independent laboratory testing
Confidence in the accuracy of results is important in any testing regime, but is even more so when evaluating antimicrobial performance. SteriTouch® uses only established laboratories specialising in antimicrobial testing, ensuring consistent and repeatable results.
The standard organisms used in the JIS/ISO method are MRSA and E.Coli, however SteriTouch® has been tested against a range of other organisms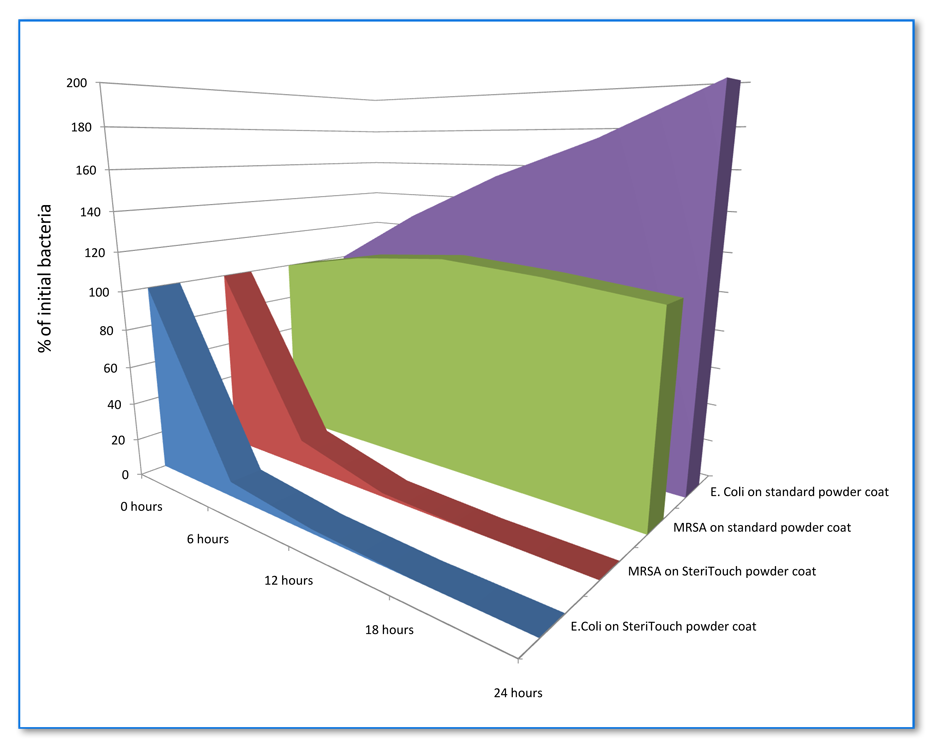 The test method - JIS Z 2801 & ISO 22196
The standard test for evaluating the performance of antimicrobial surfaces is the JIS Z 2801:2000 or ISO 22196 method, which can be summarised as follows...
Each test sample is inoculated with a suspension of the test organism (for example, MRSA). The inoculum is held in contact with the test sample using a sterile polyethylene film. All test samples are inoculated in triplicate, with an additional three replicates of the control. The bacterial population on three control replicates is evaluated immediately following inoculation. This is assumed to be the initial population on all test samples (i.e. the population at zero hours). The remaining samples are incubated for the test period (typically 24 hours) at 35°C, at which time the bacterial population is evaluated.