All Paragon Products are covered by our 24 Month Warranty & come with full Service backup. Details listed below.
Warranty
The standard warranty period for our Healthcare Products is 2 Years, the warranty covers all aspects of the product. Damage caused by wear & tear or misuse are not covered
Servicing
We have a Full Service Department on call to help our customers with any issues. Our procedures are all ISO Certified, which ensures our customers get the same quality of service everytime.
Audits
We offer free of charge Hospital Bin Audits where all bins are checked and assessed with a full report submitted detailing bin details by area, in turn if required repairs we can carry out the neccessary repairs on site. This Audit & Repair system covers all Hospital Bins (including bins not manufactured by Taltech)
Audits can also be carried out on new units to access the requirements for Hospital Bins and related products such as Recycle Bins & Stations, Litter Bins, Ashbins & Smoking Shelters etc..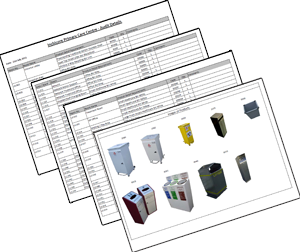 Parts
All parts are ex-stock and available from our Manufacturing Facility in Dublin 8.
Replacement Parts - Hospital Bins
Lid

Silent Closing Unit

Pedal

Plastic Feet

Castors

Shock Cord

Locking System
Lid and/or Silent Close Unit are provided in kit form for ease of replacement
Parts Pricelist including 3D drawing listing all parts are available on request, please phone or email us for a copy,
See sample 3D Parts Beakdown below