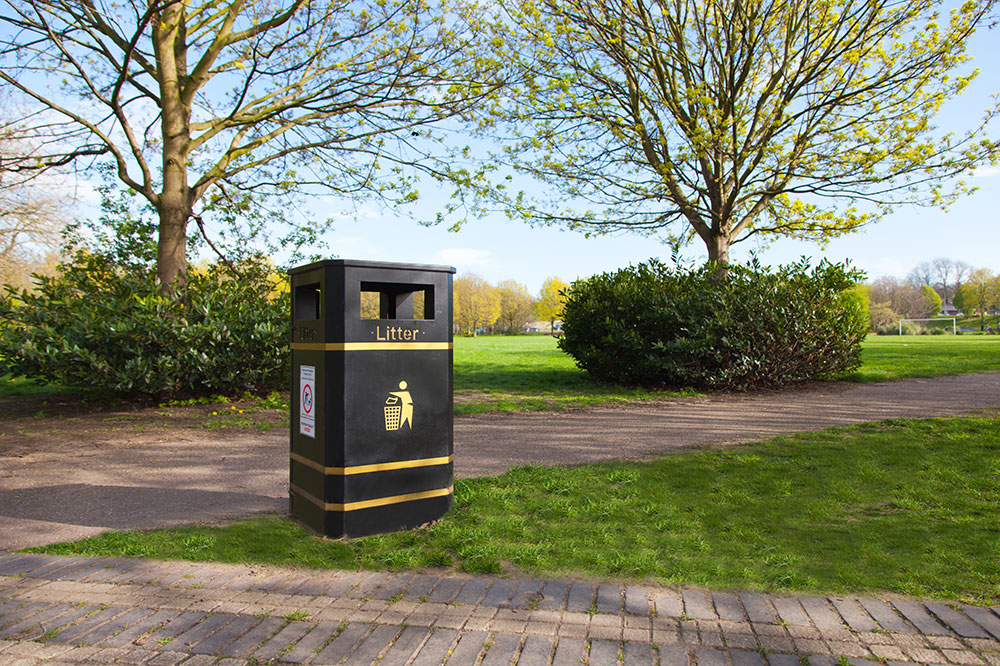 3 reasons to invest in outdoor litter bins 
Outdoor litter bins help keep the local environment clean, tidy and rubbish free. Many councils are installing numerous bins across their jurisdictions, realising the strong link between the number of bins and the reduction in the amount of litter left on the ground. Dun Laoghaire and Fingal County Council are just two councils that have installed our bins and in doing so are helping to reduce the amount of waste strewn on the ground in their public spaces.
1. Comply with health and safety
Minimising the amount of rubbish left lying on the ground not only improves the appearance of public areas, it also reduces the risk to health and safety. By having a safe place for people to dispose of their rubbish, the risk of stepping on broken glass and other potentially harmful items reduces dramatically. This is especially important if the public space is being frequented by families, such as children playing in a playground.
2. Boost civic pride
If you are a council that is serious about helping residents enjoy their neighborhood, installing outdoor rubbish bins should be the first step to improving their local environment.
Research has shown the amount of littering directly relates to the number of bins available to dispose of the rubbish. Therefore, through the installation of outdoor litter bins, the environment is more likely to be kept litter free.
If the community frequents an area that is already spoilt with a lot of rubbish littered on the ground, they will be more inclined to add to the rubbish pile. However, if the area is kept pristine thanks to the use of outdoor litter bins, local residents are much more likely to pop their rubbish  into the bin and feel better about the area they and their family live in.
3. Do your bit for the environment
Recycling is important in order to reduce greenhouse gases and limit the amount of waste that ends up in the oceans and which can be harmful to wildlife. You can even be seen as a forward-thinking council by investing in recycling bins for your public spaces which improves your reputation and carbon footprint.
Recycling has been proven to not only reduce landfill waste but lead to a reduction in water and air pollution, having a positive effect on the global climate. All products that end up in landfill have a negative impact , with more trucks needed to transport the waste, and more energy needed to dispose of the rubbish. By recycling and re-using our rubbish, we can reduce this impact on the environment. Recycling can even involve converting waste materials into fuel or other energy sources.
Outdoor litter bins we offer
 We offer a large range of outdoor litter bins to suit all of your council's needs. We have plastic and metal bins, open-topped bins and pyramid top bins. For placing outside offices, shops, amenities and other public areas, rubbish bins with built-in ashtrays and two compartment bins which cater for all of your disposal needs. Our bins feature special rust-resistant primer and powder coating to keep them protected from all weather situations. Thanks to the high-quality fabrication of our bins, we can ensure our bins are going to stand the test of time.
 Interested in installing outdoor litter bins? Contact us (http://www.paragonproducts.ie/contact-us) for more information.